What is the GEN-PINC Scholarship?
In August of 2020, the Genentech Foundation has graciously awarded the PINC program a $580,750 grant that provides scholarship opportunities for students
This GEN-PINC grant will provide scholarships and mentor support to 10 PINC students starting the Fall of 2020. Selected students in the program will receive $4500 for the whole academic year. 
Through the GEN-PINC program, scholarship recipients will have the opportunity to collaborate on projects with researchers from industries and other academic institutions such as Genentech, IBM, and Stanford. Through these projects, students will be able to strengthen their computational training, receive mentorships, and establish professional relationships in preparation for careers post-graduation.
Thank you to the PIs who submitted this grant (Anagha Kulkarni, Ilmi Yoon, and Pleuni Pennings) and Genentech for the generous award! We look forward to this partnership and collaboration.
2020-2021 Scholarship Recipients
| | | |
| --- | --- | --- |
| Jason Hernandez | Elizabeth Mathiasen | Faye Tagudar Orcales |
| Henry Edwin Brown | Chisom Obiorah | Amisha Shantaram Dhawan |
| Elissa Daniella Vazquez | Maricarmen Gonzalez Torres | Patra Kathryn Holmes |
2020-2021 GEN-PINC Scholar Spotlight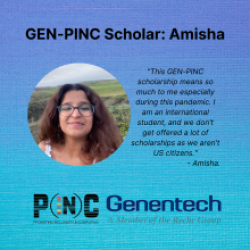 Amisha
"This Gen-PINC scholarship means so much to me especially during this pandemic. I am an international student, and we don't get offered a lot of scholarships as we aren't US citizens."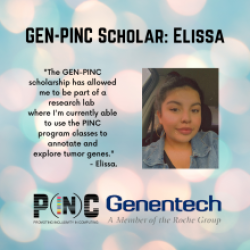 Elissa
"The Gen-PINC scholarship has allowed me to be part of a research lab where I'm currently able to use the PINC program classes to annotate and explore genres."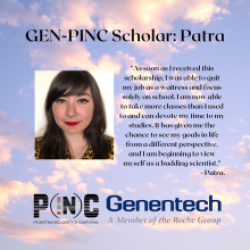 Patra
"As soon as I received this scholarship, I was able to quit my job as a waitress and focus solely on school. I am now able to take more classes than I used to and can devote my time to my studies. It has given me the chance to see my goals in life from a different perspective, and I am beginning to view myself as a budding scientist."
Chisom
"I plan on working in a biotechnological company or to work in a biomedical field. This scholarship provides the networking needed for such opportunities. It also provides great opportunities for research and exposure to the world of science. I believe strongly that this program sets an advantage for me going to my professional field."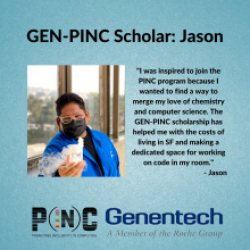 Jason
"I was inspired to join the PINC program because I wanted to find a way to merge my love of chemistry and computer science. The GEN-PINC scholarship has helped me with the costs of living in SF and making a dedicated space for working on code."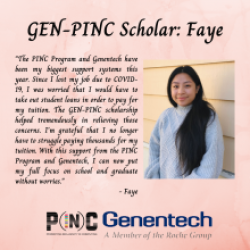 Faye
"The PINC Program and Genentech have been my biggest support systems this year. Since I lost my job due to COVID-19, I was worried that I would have to take out student loans in order to pay for my tuition. The GEN-PINC scholarship helped me tremendously in relieving those concerns. I'm grateful that I no longer have to struggle paying thousands for my tuition. With this support from the PINC program and Genentech, I can now put my full focus on school and graduate without worries."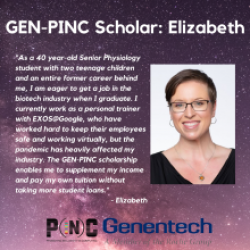 Elizabeth
"As a 40 year-old Senior Physiology student with two teenage children and an entire career behind me, I am eager to get a job in the biotech industry when I graduate. I currently work as a personal trainer with EXOS@Google, who have worked hard to keep their employees safe and working virtually, but the pandemic has heavily affected my industry. The GEN-PINC scholarship enables me to supplement my income and pay my own tuition without taking more student loans." 
MAY 2020 GEN-PINC Scholars Final Zoom Meeting