Are you curious about research science?  Interested in learning to code?  Looking to learn a new coding language?  Check out the PINC Summer Program!  
In the PINC Summer Program, students will work in small teams to learn new coding skills, and then apply those skills to a small collaborative research project.  Along the way, students will be supported to improve their skills at reading the scientific literature, as well as science communication. The PINC Summer Program will culminate in a presentation of research results at the Summer Research Symposium. The PINC Summer Program grows out from the summer programs offered in years past. For more information and to apply: PSP 2023 | The CoDE Lab 
Applications to the PINC Summer Program are available in April every year.  If you have questions, don't hesitate to contact: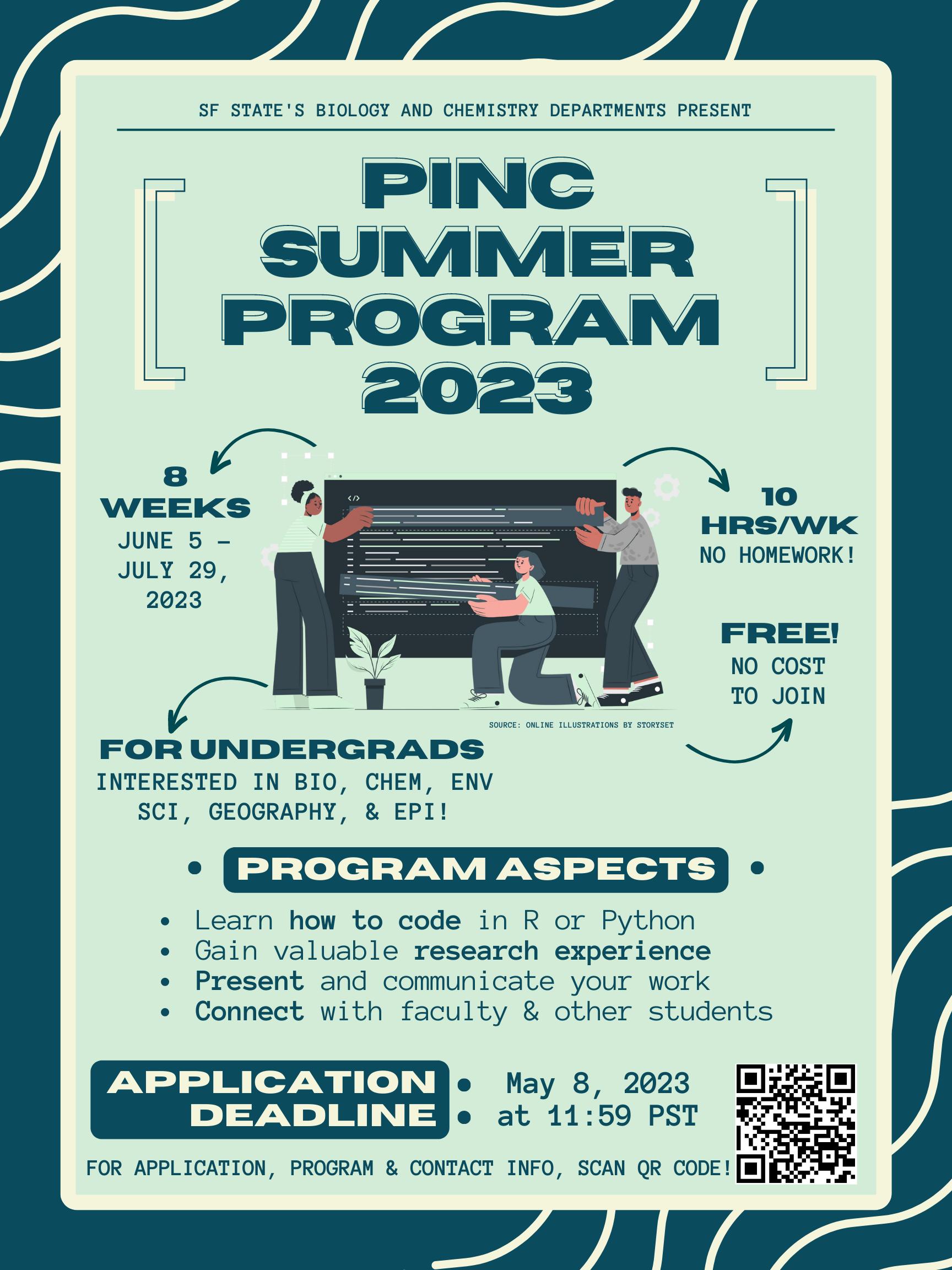 PINC Summer Program FAQ
Do I need programming and/or research experience to join the PINC Summer Program?
No!  Some participants may have experience, but the program is intended for fresh students as well.   
What happens once the PINC Summer Program is over?
After the end of the program, interested students will be supported to join labs and encouraged to take classes in the PINC minor.
What's the time commitment?
Participants will meet in their teams for 10 hours/week. There will be a few different options available for the hours, but they will be scheduled between 9 a.m. and 5 p.m. Monday-Friday. 
When will the program happen?
PINC Summer Program is a eight week program in June and July. The program will culminate in a research presentation and celebration.
How much does the PINC Summer Program cost for participants?  
The PINC Summer Program is free!  
How do I apply?
Application is now available, click the "more information" button above
PINC Summer Program Personnel
Biology faculty organizers and advisors: